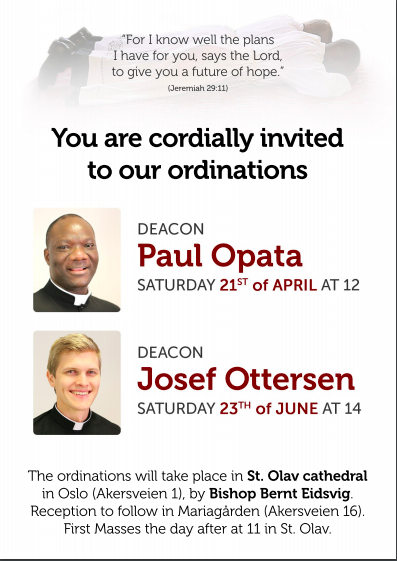 Paul Opata, one of the AKIN members, will be ordained to priesthood to serve in the catholic diocese of Oslo on the  the 21st of  April this year. Paul studied in Kenya, Norway and Rome for his priestly studies and formation. He is Currently assigned at St. Olav Cathedral in Trondheim as a deacon. After priestly ordination this April, Paul will be appointed to serve in one of the parishes or in other diocesan pastoral responsibilities.We asked Paul to explain briefly about ordination and priesthood.
What is Catholic ordination to Priesthood? A priest first of all is a baptized man who has heard God calling him to a particular role in the Church – that of ministerial priesthood. After usually about six or seven years training he is ordained. Priestly ordination, is a sacrament; that is a special blessing from God which makes an inner change in the man.  We call this a special grace of the Holy Spirit. Ordination creates a new man, one who, if living his vocation faithfully, can say with St. Paul: 'It is no longer I who live, but Christ who lives in me.' (Galatians 2:20). The Catechism of the Catholic Church, describes Holy Orders as 'The sacrament through which the mission entrusted by Christ to his apostles continues to be exercised in the Church until the end of time…' (CCC 1536, Acts 1:2; Mt 28:18-20,1pt 5:1-4). Everything a priest does in his ministry flows from what he becomes at his ordination namely: a priest of Jesus Christ in the Order of Melchizedek.'
How are priests ordained and what are the main duties of a priest? Normally priests are ordained by the bishop of the diocese they will serve. They are the bishop's co-workers, and when priests are ordained, they make a promise of obedience to their bishop. Priests may be given responsibility for any of a bishop's works or for parishes under his authority.One of the main things a priest does as a co-worker with his bishop, is to carry out the Church's mission to: proclaim, teach, and guard the word of God found in Scripture and authentic Catholic tradition. A priest carries on the priestly ministry of Christ in a number of ways in the parish, or pastoral responsibilities he is charged with. Chiefly he celebrates the Mass (which is the central worship of the Church) while acting in the person of Christ. He also celebrates other sacraments; baptism, confession, marriage, and anointing and praying for those who are sick). He is also charged with shepherding and governing God's people in his parish both spiritually and morally.
On behalf of Paul, AKIN wishes to invite you all to Paul's ordination  on Saturday  the 21st  April at St.Olav cathedral in Oslo (Akersveien1) at 12:00.This will be followed by a reception in Mariagården (Akersveien16).  Fr. Paul will celebrate First Mass and bless the people in St Olav cathedral, Sunday; 22.04, at 11.00 (Messe på norsk) and 6.00 pm(Mass in English). For more information please check out this Facebook event.